Outside doors of shops and public buildings are often left open forcommercial reasons. An open doorarouses curiosity and makes the building more accessible, which contributes to the customer-friendly approach. But when the door is open, incoming colderair will disturb the indoorclimate. Forcustomers as well as staff, draughts feel very unpleasant. Besides, precious warm aircan freely escape to the outside.
The comfort aircurtain, DoorFlow model, warms the cold air before it enters the building and prevents the escape of warm air through the open door. Installing the DoorFlow above the door means increased energy efficiency and the prevention of draught problems. The DoorFlow proves that an open doorand a comfortable indoorclimate can coexist perfectly well.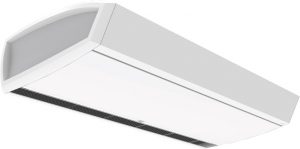 SensAir air curtains are the ideal solution for retailers and other end-users to combat the issue of climate separation across their outlet or office building doorway. The importance of accessibility to attract customers in the retail sector is well-known, but with this free form of access through 'open door' trading, cold draughts and high-energy bills are often the consequence.