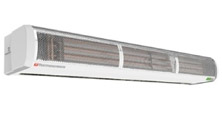 The C Range air curtains are available for either surface or recessed mounted installations. The compact design makes this range especially suited for applications where space is at a premium. Ideally suited for small to medium-sized buildings with unexposed doorways of up to 3m with a moderate pedestrian flow such as retail outlets, boutiques, restaurants, pubs, bars etc.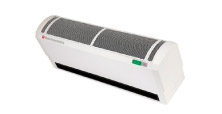 Designed with energy efficiency and ease of use in mind, the HX combines the efficiency of Ecopower Controls and innovative engineering design in our Ecopower Air Technology to take energy-saving to the next level.
Air velocity projection and uniformity are two of the most important factors when determining the effectiveness of an air curtain to provide climate separation at a building opening. The HX range achieves an exceptional 90% uniformity when measured against the ISO 27327-1 test requirements, which surpasses many air curtains in the market today.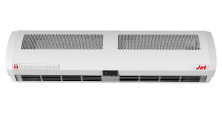 JET is an electrical over door heater which can be used for small doors, kiosk or drive through windows. The Jet is supplied complete with brackets which enable the units to be angled to suit mounting requirements for directional airflow.